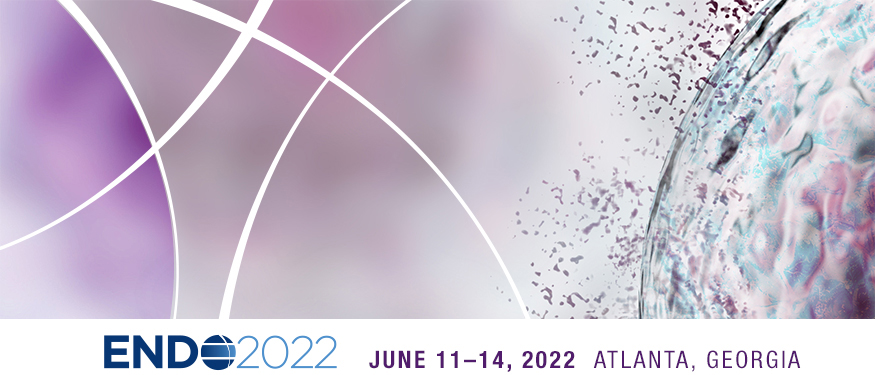 < Return to ENDO Daily Main Page
Press Conference on Reproductive Health Included Studies on Pandemic Stress, Hot Flashes, and Costs of Mental Health Disorders Associated with PCOS
June 13, 2022
Researchers presented their findings on a range of reproductive health issues at an ENDO 2022 press conference on Monday. The featured studies looked at effects of pandemic stress on ovulation, costs of mental health disorders associated with polycystic ovary syndrome, findings of a therapy to reduce hot flashes in women with menopause, and effects of active testosterone therapy for transgender men on IVF outcomes. Below are summaries of the studies presented on
COVID-19 Pandemic Stress Impacts Ovulation
Life disruptions and the stresses of the COVID-19 pandemic led to disturbed ovulation with decreased progesterone durations or levels, according to research being presented Sunday at ENDO 2022, the Endocrine Society's annual meeting in Atlanta, Ga.
The study was the first to observe ovulatory disturbances without menstrual cycle disruption during the pandemic.
"These silent ovulatory disturbances likely explain why so many women who are not taking hormonal forms of birth control reported having early or unexpected periods in the days following a COVID-19 vaccination," said Jerilynn C. Prior, M.D., FRCPC, Professor of Endocrinology at the University of British Columbia in Vancouver, Canada.
Prior and colleagues compared two independent, similarly-designed studies 13 years apart: the Menstruation Ovulation Study (MOS), which was conducted in a group of 301 women from 2006-2008, and MOS2, which studied 112 women during the pandemic. Both studies included menstruating women ages 19-35 years, who were not taking systemic or combined hormonal contraceptives.
The first MOS was used as a control to compare to the MOS2 cohort's experiences during the pandemic. All participants in both studies answered a comprehensive health, reproduction and lifestyle questionnaire and were asked to keep a daily diary of their menstrual cycles and general life experiences.
For MOS2, ovulation was documented using a validated quantitative basal temperature. Researchers will confirm MOS2 hormonal characteristics using salivary progesterone levels. For the MOS cohort, the researchers assessed ovulation by measuring urinary progesterone levels.
Nearly two in three women who took part in the study during COVID-19 were not ovulating normally, Prior said. The women either experienced short luteal phases, in which an egg was released without enough time from ovulation for pregnancy to occur, or anovulation, meaning no egg was released at all.
In comparison, the MOS study found only 10 percent of women experienced ovulatory disturbances. The MOS2 and MOS studies showed similar body weights, body mass index values and menstrual cycle and flow lengths. Thus, the women in MOS2 experienced no obvious signs of reproductive disruption.
Menstrual Cycle Diary© analyses for MOS2 showed significantly increased anxiety, depression, frustration, (overall negative moods), perceived outside stresses, sleep problems, and headaches compared to MOS.
"By comparing the two studies, and especially their daily diaries, we can infer that the SARS-CoV2 pandemic life disruptions cause silent ovulatory disturbances within mostly regular menstrual cycles—providing a unique experiment of nature," Prior said.
Cost of Mental Health Disorders Linked with Polycystic Ovary Syndrome Was Almost $6 Billion in 2021
The cost of mental health disorders associated with polycystic ovary syndrome (PCOS) – depression, anxiety and eating disorders – reached almost $6 billion in 2021, according to a new study presented Monday, June 13 at ENDO 2022, the Endocrine Society's annual meeting in Atlanta, Ga.
PCOS is a common hormone imbalance that affects approximately 6 million women in the United States. It is associated with increased risks for a number of conditions including infertility, type 2 diabetes, hypertension, stroke and endometrial cancer.
"PCOS is also associated with an increased prevalence of mental health disorders such as depression, anxiety and eating disorders," said lead study researcher Adam Bonner, B.S., of the University of Alabama at Birmingham-Heersink School of Medicine in Birmingham, Ala.
The researchers wanted to calculate the healthcare-related costs of mental health disorders in women with PCOS. They reviewed 19 studies which included a total of 28,482 women with PCOS and 27,124 without the condition. They analyzed the odds of anxiety, depression and eating disorders among patients diagnosed with PCOS. They found that women with PCOS were 77% more likely to have anxiety, 53% more likely to have eating disorders and more than twice as likely to have depression compared to women without PCOS.
They then calculated the excess costs of these mental health disorders for women with PCOS in the United States. They estimated the direct PCOS-related healthcare costs in 2021 were $2.987 billion for depression, $2.216 billion for anxiety and $694 million for eating disorders.
"This work is the first to estimate the excess direct healthcare costs of mental health disorders associated with PCOS in the United States," Bonner said. "Our findings mandate that the scientific, medical and policy community increase its focus on this important disorder."
Phase 3 Study finds Fezolinetant Reduces Frequency and Severity of Menopausal Hot Flashes
Fezolinetant significantly reduced the frequency and severity of moderate-to-severe vasomotor symptoms (VMS), or hot flashes, associated with menopause, according to a Phase 3 industry-sponsored study being presented Saturday at ENDO 2022, the Endocrine Society's annual meeting in Atlanta, Ga.
The SKYLIGHT 2 trial was a 52-week study to investigate the safety and efficacy of fezolinetant (a neurokinin 3 receptor antagonist) on the frequency and severity of moderate-to-severe VMS and sleep disturbance. The mean change in patient-reported sleep disturbance, from baseline to week 12, was a key secondary endpoint in the study.
"VMS associated with menopause, which are characterized by hot flashes and/or night sweats, affect millions of women worldwide and can impact daily activities and quality of life," said Genevieve Neal-Perry, M.D, Ph.D., Distinguished Professor and Chair of Obstetrics and Gynecology at the University of North Carolina School of Medicine in Chapel Hill, N.C.
The double-blind Phase 3 study randomized 501 post-menopausal women ages 40–65 with an average of seven or more moderate-to-severe hot flashes/day to placebo or one of two once-daily doses of fezolinetant—30mg or 45mg—for 12 weeks. In the extension period, those on placebo were re-randomized to fezolinetant 30mg or 45mg, and those originally on fezolinetant remained on their dose for the remaining 40 weeks. The extension period analysis comprised 484 women.
Neal-Perry and colleagues evaluated the efficacy of fezolinetant compared to placebo and found improvement in VMS frequency and severity through week 12. Both doses were associated with a statistically significant reduction in the frequency and severity of hot flashes, which was maintained through the 52-week study period. Data support the overall safety and tolerability previously observed for fezolinetant at the 30 and 45 mg doses.
Those who were re-randomized from placebo to fezolinetant experienced a reduction in frequency and severity of VMS consistent with the women initially randomized to fezolinetant. The treatment also reduced sleep disturbances as assessed by Patient-Reported Outcomes Measurement Information System Sleep Disturbance (PROMIS SD SF 8b).
"These results, along with other fezolinetant studies, will be important in understanding the use of this oral nonhormonal selective NK3 receptor antagonist to treat moderate-to-severe VMS associated with menopause," Neal-Perry said.
The study was sponsored by Astellas Pharma Inc.
Mouse Model of Transgender men Finds Active Testosterone Worsens IVF Outcomes
Active testosterone therapy for transgender men may negatively impact IVF outcomes, suggests a mouse study being presented Monday at ENDO 2022, the Endocrine Society's annual meeting in Atlanta, Ga.
The study found female mice currently receiving testosterone had fewer and less developed eggs retrieved. In contrast, discontinuing testosterone therapy in mice led to similar egg retrieval rates compared to the control group.
Historically, there has been limited information on the impact of gender-affirming hormone treatment on reproductive capacity. Amanda Schwartz, M.D., reproductive endocrinology and infertility fellow at the University of Michigan in Ann Arbor, Mich., and colleagues originally hypothesized that testosterone (T) treatment would not have an impact on IVF outcomes.
To create the mouse model, 38 female mice were implanted with silastic tubing with either 10 mg T enthanate in ethanol (n=20) or ethanol alone (n=18) at 10 weeks of age. The mice were divided into four groups: current T implant, current sham implant, T cessation and control cessation.
The team monitored T levels and reproductive cycles. Mice with the testosterone and sham implants underwent ovarian stimulation 12 weeks post-implantation. Implants were removed after 12 weeks for the testosterone cessation and control cessation groups, and mice underwent ovarian stimulation 2 weeks later.
Mice with current T treatment had fewer oocytes, or egg cells, retrieved (17 vs. 36), compared with the current sham implant group. The mice undergoing active testosterone therapy also had fewer mature oocytes (13 vs. 28.1), and 2-cell embryos (12.78 vs. 26.9) retrieved than the current sham implant group. There was no significant difference in maturity or fertilization rate. Females who had 2-cell embryos transferred from current T implant mice were less likely to have a live birth than those with transfers from current sham implant mice (25% vs. 80%).
Conversely, the T cessation group and control showed no significant difference between total oocytes, mature oocytes or 2-cell embryos retrieved.
"These results demonstrate reversibility of the detrimental impact of testosterone on IVF outcomes and support a period of testosterone discontinuation prior to pursuing fertility preservation," Schwartz said. However, further research is needed to fully understand the impact of testosterone on human reproductive potential.
The Endocrine Society's
Clinical Practice Guidelines
currently recommend fertility preservation counseling for all individuals seeking gender-affirming care.
< Return to ENDO Daily Main Page
Event Information
June 11-14, 2022
Georgia World Congress Center
Atlanta, GA
Important Dates
June 19, 2022
Standard non-member registrant access to the virtual platform concludes
June 30, 2022
Standard member registrant access to the virtual platform concludes
August 14, 2022
Standard registration credit claim expiration deadline
December 31, 2022
Premium member and non-member access to the virtual platform concludes
Premium registration credit claim expiration deadline